Hillside Massage at Shindig Weekender 2018
7th June 2018
---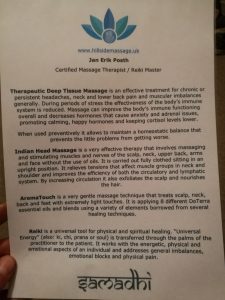 Thank you all for a great time, filled with healing, connecting to new and old friends, thunderstorms, music, food and family.
Hope to see many of you in my clinic or elsewhere – stay tuned and be in touch!
Site is up!
19th May 2018
---
Hello world!
By the time you can read this we're there with the site and a blog and..
Lots of thank you's for help and support and patience and interest.
Tom Keeble is the man, the hacker and the designer, an amazing climber and friend, and all that in the midst of his A-Levels!
Thank you Frida Posth for her amazing drawings that we used for some logos! You rock!
Let us know what you think of the site, of the treatments and of all the things I forgot to think about. Leave a comment or review on facebook or on yellor in a mail.
So long!
« Previous Page
Please check that this widget Facebook Reviews has a connected Facebook.